Automated Guided Vehicles
In today's production and material handling processes Automated Guided Vehicles (AGVs) are established as one of the most versatile solution for in-plant transports. Among all the unique advantages of this technology, there is one major challenge: the energy supply concept. For the key advantage of autonomous navigation on the factory floor – compared to track mounted systems – conventional power transmission technologies hold too many limitations.
A standard solution for this challenge is the use of on-board energy storages, like batteries or super-capacitors. These energy storages need frequent recharges. Charging can take place either on board of the AGV or outside the AGV with an energy storage swapping and charging station.
Thanks to striking technical and economical advantages contactless, inductive power transfer, often in conjunction with inductive data communication, guidance and positioning, is established as a state-of-the-art solution by now.
For floor surface conveyors, the goal is to achieve a level floor with no obstacles for persons, forklifts or other equipment in the factory environment, to eliminate hazardous contact rails, and to render batteries in vehicles either superfluous or more efficient.
To achieve this, the primary track is installed in the floor or other surface along the path of travel.
The IPT® Floorsystem can be placed continuously along the entire path of travel or only in defined areas. The advantage of continuous power transfer is the total elimination of energy storage devices on the vehicles. This cuts costs related to maintenance and replacement of batteries, and often fewer vehicles are required, since none are off-line for charging. Vehicles with their own on board power source are preferable when there are long paths that are infrequently travelled or if there are very complex or variable paths, which can make it unfeasible to put cables in the floor. Using inductive charging paths this way has the beneficial effect of permitting opportunity charging while travelling or at idle positions. iDAT is the optimum addition to continuous inductive power transfer. iDAT makes it possible to guide vehicles precisely along the magnetic field produced by the power transfer, to give them position information via position marks, and to transfer bidirectional data without interference between vehicles and the master controller.
Today IPT ® has established itself as a widespread alternative energy concept for Automated Guided Vehicles. It is predominant for AGVs integrated in the production processes such as assembly of gearboxes, engines or axles. Hybrid vehicles on the other hand, which use IPT® in conjunction with batteries or capacitors, are increasingly used for example in logistics processes. The possibility to downsize the energy storage as well as the peak power supply requirements and an increase in the overall system flexibility are the main driving factors for this development.
Handling of airplane structural part [ keel beam ] due to a automated guided vehicle
Application
Handling of airplane structural part [keel beam] due to a automated guided vehicle

Country
France

City
Nantes

Representative office
Conductix-Wampfler [F]
Operator
EADS / Airbus

Technical requirement[s]
Energy supply for the Automated Guided Vehicle

Track lenght
220 m

Number of vehicles
1

Additional information [vehicle]
Weight: 13 t
Payload: 35 t
Product
IPT® (Inductive Power Transfer)
iDAT guidance
Power
9 kW for transfer
5,5 kW for lifting
Specific features
Movement of the vehicle in both perendicular directions
Running precision +/- 2 mm in transfer at nominal speed
Positioning precision +/- 1 mm at the parking stands for lifting operation
Guidance and positioning controlled with
3 iDAT pickups in each axis
Relevant Products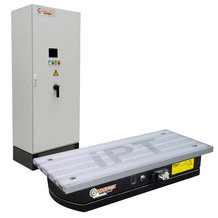 Inductive Power Transfer Floor
Additional information
Generally the basic function of Floor systems is the same as that of other Inductive Power Transfer systems. But there are some additional or specific aspects to consider.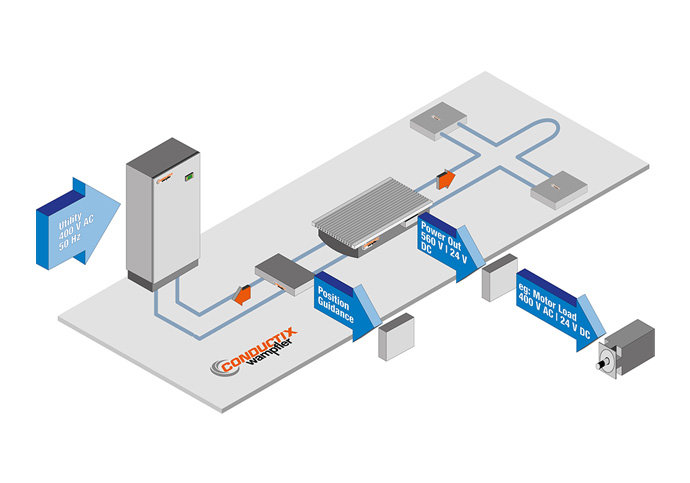 The cable loop must be installed in a way that complete coverage of the supply of vehicles along the entire travelling path is given. This way installed the cable routing also defines the travelling path of vehicles. With inductive track guidance it is possible to detect the magnetic field around the cabling and to supply a guidance signal to the vehicle control and to control so the movement of the vehicle. Unwanted and expensive guidance slots become obsolete this way. Various travelling paths can be defined. Switches, crossings, etc. are no problem. The pickup just needs to be placed so that it is exposed to the magnetic field in a sufficient way.
Downloads