Carousels
Vertical Swing Tower – "Dancing in the Sky"
Application
Vertical Swing Tower – "Dancing in the Sky"

Country
Italy

Project installation date
2018

Representative office
Conductix-Wampfler [IT]

Customer
Soriani [Zamperla Group]

Technical requirement[s]
Energy and data transmission with ProfiDAT® [Transmission of Ethernet / IP signals (Allen Bradley), Data rate up to 100 Mbit/s]

Length [System]
41 m [Tower]

Seats passengers
24

Capacity
600 person per hour

Engine power
143 kW

Product[s]
• ProfiDAT®, Program 0514
• Conductor Rail, Program 0811 SingleFlexLine
• Slip Ring Assembly, Program 5100

Current Collector
ProfiDAT® Current collector with carbon brush and data transmission antenna

Additonal product information
• ProfiDAT® for grounding and data transmission
• Conductor rail for energy transfer to tower gondola
• Slip ring assembly for rotating the tower gondola
Relevant Products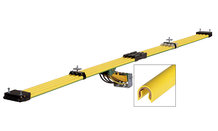 Single FlexLine 0811
Additional information
Single pole conductor rail for curved tracks and circular or oval applications.
Special features
High safety level due to integrated finger-safe design
Easy and exact mounting with multiple hanger clamps and bayonet fastening technology
Unlimited number of pole, designed for complex systems
Easy installation of courved segments
Various power feed options
Main applications
EMS (Electrified monorail systems)
Wrapping and packaging machines
Amusement rides
Ring-shaped applications or slip rings
Stage technology
Sorters
Product data
Standard application data
Nominal Current (at 100% duty cycle) [A]: 10 | 32 | 100
Nom. Voltage [V]: 690
Rail Length [mm]: 4.000 [13.12 ft]
External Dimensions (Pole) [mm]: 14,7 x 15,5 [0.58" x 0.61"]
Operating Conditions: for indoor and weather-protected outdoor applications
Track Configuration: straight / easy on-site adaptation to track layout
Downloads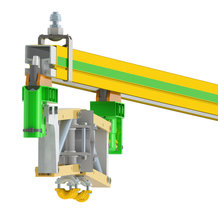 ProfiDAT®
Additional information
ProfiDAT® is a contactless data transfer solution for communication between fixed and mobile control units from Conductix-Wampfler. ProfiDAT® makes it possible to achieve reliable transfer of mixed data (video, audio and real-time control) at very high data rates using Conductix-Wampfler slotted waveguide technology. Data can be safely transferred at rates up to 100 Mbit/s with average latency of only 3ms. The unique configuration of waveguide and mobile antennas results in a system with integrated shielding. This isolation means that ProfiDAT® is license free and can safely transfer data, even in the most challenging radio environments (e.g. shipping container terminals).
ProfiDAT® is excellently suited for integration into conductor rail systems because the waveguide profile has been engineered for dual use as the protective earth (PE) conductor rail. This results in a very compact complete system because an additional PE conductor rail is not required. The ProfiDAT® data transfer system can be combined with multiple available Conductix-Wampfler conductor rail systems.
Main Applications
STS Crane (Ship-to-Shore)
RTG/E-RTGTM Crane (Rubber-Tired Gantries/ Electrified Rubber-Tired Gantries)
Process Crane
Key Features
Safe and reliable wireless communication using slotted waveguide technology
Real-time data transfer through prioritization of PROFINET data packets
PROFIsafe compatible
Solutions for expansion joints and separation points
Cost saving through dual use of ProfiDAT® as communication channel and protective earth (PE) conductor rail
Compact and fully integrable into conductor rail systems
Product data
Standard Application Data
Data rate [Mbit/s]:up to 100
Real-time capable: Yes (PROFINET)
Average latency [ms]: 3
Maximum distance (without repeater) [m]: 500
Safe communication: Yes (PROFIsafe)
Dual use as protective earth (PE): Yes
Multiple mobile units in one profile possible: Yes
Profile section length [mm]: 5.000
External dimensions (profile) [mm]: 50 x 56
Suitable for indoor and outdoor applications: Yes
Temperature range [°C]: -25 bis +50
Downloads