Compressed Air And Electric Supply System
Final assembly of tractors
Application
Final assembly of tractors

Country
Russia

City
Saransk

Representative office
Conductix-Wampfler AG [D]

Operator
SAREX

Technical requirement[s]
Projection, delivery and assembly of the compressed air and electric supply incl. steelwork and lighting installation

Additional information
Plant layout / projectionand construction realized by Conductix-Wampfler
Product[s]
W5-traxX [compressed air and electric supply]
Tool transporter
Compressed air loop [distance from ball cock compressor interface is 40 metre]
Lighting incl. control cabinets
Length [System]
11 x 18 m

System course
Straight

Number of [Loads]
22 tool transporters

Environmental condition[s]
Indoor, factory building
Relevant Products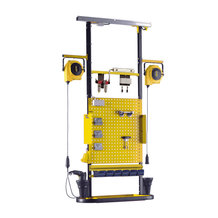 Tool Transporter
Additional information
Tool transporters are complete pre-assembled units that allow the use of multiple different tools, among other things. They can also be fitted with tool holders, perforated sheets, storage tubs for keeping small parts in storage containers, etc..
The load-bearing element is a ground cart / trolley. Vertical, collapsible aluminum tubes enable the transporter's height to be adjusted.
The standard equipment includes a rubber profile along the edges of the steel storage tub for collision protection. Based on customer needs, the standard transporter can be fitted with additional components such as perforated plates, a tool holder, etc.
Product data
The tool transporter is designed for use by craftsmen or in industrial settings, even with low clearances. We supply workplace systems for every industrial sector as well as repair and assembly lines for the automotive industry and its suppliers.
Tool transporter models
Standard version + accessories
Applications:
For jib booms
For single rail systems
For single girder device cranes
Accessories
Outlets
Service units
Spring tensioners
Balancers
Perforated sheets for hanging hooks for tools, tool holders, storage shelf, etc.
Downloads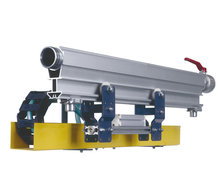 BestaPower W5 - traxX
Additional information
The automation solution with integrated compressed air line, sideways installed energy-guiding chain and optional position gauging system.
Special features
The optimal compressed air supply, even for users with high air consumption, using integrated 2" compressed air pipe
High load capacity at light weight, due to special aluminum profile
Maximum flexibility, due to easy installable compressed air outlets
Flexible and adaptable, thanks to terminal profiling on all sides
Safe, low-friction guiding, thanks to I-profile trolleys with polyamide flange rollers
Automation with an optional, position gauging
Main applications
Assembly lines in the automotive industry
Product data
Standard application data
Suspension distance max. [m]: 4
Point load max. [kg]: 100
Section load max. [kg/m]: 250
Travel speed max. [m/min]: 80
System length Workstation length max. [m]: 20
Capacity up to 2 x ½" compressed air hoses, 1 electrical cable 3 x 2,5 mm2 or 5 x 2,5 mm2 1 high-frequency line
Working pressure max. [bar]: 12
Interfaces Feed through terminal boxes | 2" ball valve at feeding point
Compressed air outlet using R ½" inside thread (coupling optional)
Equipment carrier: Steel and/ or Aluminum
Working conditions Indoors [°C]: +5 up to +60
Options: Position gauging system
Downloads