Stacker & Reclaimer
Stacker & Reclaimer
Application
Stacker & Reclaimer

Country
Czech Republic

City
Komořany

Representative office
Conductix-Wampfler s.r.o. [CZ]

Operator
SUB-Závod 05 KSK, a.s. - Vršanská uhelná a.s

Technical requirement[s]
Power supply for a Stacker & Reclaimer

Track length [System]
23 m

Product[s]
• Conductor Rails, Program 0811, 0812 SinglePowerLine
• Festoon System, Program 0240
• Powertrans®
Relevant Products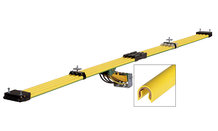 Single FlexLine 0811
Additional information
Single pole conductor rail for curved tracks and circular or oval applications.
Special features
High safety level due to integrated finger-safe design
Easy and exact mounting with multiple hanger clamps and bayonet fastening technology
Unlimited number of pole, designed for complex systems
Easy installation of courved segments
Various power feed options
Main applications
EMS (Electrified monorail systems)
Wrapping and packaging machines
Amusement rides
Ring-shaped applications or slip rings
Stage technology
Sorters
Product data
Standard application data
Nominal Current (at 100% duty cycle) [A]: 10 | 32 | 100
Nom. Voltage [V]: 690
Rail Length [mm]: 4.000 [13.12 ft]
External Dimensions (Pole) [mm]: 14,7 x 15,5 [0.58" x 0.61"]
Operating Conditions: for indoor and weather-protected outdoor applications
Track Configuration: straight / easy on-site adaptation to track layout
Downloads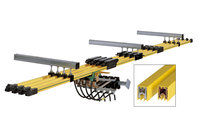 Single PowerLine 0812
Additional information
Single pole conductor rail preferably for straight tracks.
Special features
Available with different rail materials, suitable for most industrial environments
High safety level due to integrated finger-safe design
Easy and exact mountig with multiple hanger clamps for 3, 4 and 5 poles
Unlimited number of poles, designed for complex systems
On-site bending with optional bending device for curves possible
Main applications
EOT cranes
People Movers
Special purpose equipment
Product data
Standard application data
Nominal Current (at 100% duty cycle) [A]: 25 | 200 | 250 | 320 | 400
Voltage Grade [V]: 690 (hand safe array 500 V)
Rail Length [mm]: 4.000 [13.1 ft]
External Dimensions (Pole) [mm]: 18,0 x 26,0 [0.71" x 1.02"]
Operating Conditions: for indoor and weather-protected outdoor applications
Track Configuration: straight / curved elements available
Downloads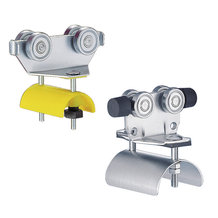 Series 0240

Buy this product online
Additional information
Flat cable trolleys
Steel cable trolley – Plastic or Steel cable support
Round cable trolleys
Steel cable trolley with ball joint

Steel cable trolley with U bolt

Plastic cable trolley with Hook
Accessories
Plastic cable clip with pin for cable trolleys with ball joint

Plastic cable clip with U bolt for cable trolleys with U bolt

Plastic cable collar for cable trolleys with Hook

Thong for cable trolleys with Hook
Product data
Rail dimensions [mm]: 40x40x2,5 [1.57" x 1.57" x 0.10"]
Max. load capacity per trolley 1) [kg]: 32 [70.5 lb]
Max. travel speed 1) [m/min]: 100 [328.1 ft/min]
Max. system length [m]: 120 [393.7 ft]
1) depending on roller size/ roller material
Downloads