Bulk Material Handling
Although most global trade travels by container, a substantial portion is handled as bulk cargo. Dry bulk cargo facilities process, store, and move a wide range of minerals, ores, agricultural goods, and forest products. Many bulk facilities run 24/7, so the material handling machinery must be heavy-duty, safe, and easy to maintain. Durable and reliable energy and data transmission systems are needed to power stacker / reclaimers, tripper conveyors, ship loaders and unloaders, radial stackers, stack racks, hoppers, and cranes, as well as processing equipment such as crushers and sizers. Electrification must be customized to the type of machine, the application, and the specific material being handled. In addition, many electrification systems must withstand dusty environments, corrosive materials, and even hazardous (explosion-proof) conditions.
Customized Conductix-Wampfler energy and data transmission products are well suited to the demands of the bulk handling industry. Our decades of experience and broad product range insure that customers will get the best possible solution. Our customers' global activities are supported with our turnkey systems and strong after-sale service from our worldwide sales and engineering network.  We offer:


Motor-Driven Cable Reels – monospiral or level wind reels to handle main power and data transmission  cables or hoses for long-travel stockyard machines such as stacker/reclaimers.  Motorized reels feature magnetic clutch or variable frequency drive (VDF) with special  slip ring assemblies and  fiber optic transmitters for uninterrupted energy and data transmission.
Festoon Systems – for dusty and harsh environments, highly reliable  festoon systems provide  cable management for  crane bridge travel, ship loaders, and bulk conveyors. These run on  I-beams or on  square "diamond" track to minimize the collection of debris and to yield the best possible performance.
Energy Guiding Chains – depending on the application and the  cable package, heavy duty  energy guiding chains can be used in linear or circular applications to manage cables and hoses on bulk machines.
Cable Protection Systems –  Trenchguard and  CoverZip cable protection systems increase the life of  cables that lay in a sub-surface trench.
Conductor Rail Systems – specially designed and highly durable  conductor rail systems can be used to power moving equipment. We offer anti-corrosion protective coatings, if required.
Spring-Driven Cable Reels – can be used for vertical or horizontal movements of bulk handling machines without the need of energy for the operation of the reel.
Jay Radio Remote Controls –  offer a safe way of operating or monitoring machines from a distance. The comprehensive range of industrial and safety radio remote controls offers countless solutions to adapt to an extensive number of bulk material handling applications.


Stacker & Reclaimer
Applikation
Stacker & Reclaimer

Land
Tschechische Republik

Stadt
Komořany

Vertretung
Conductix-Wampfler s.r.o. [CZ]

Betreiber
SUB-Závod 05 KSK, a.s. - Vršanská uhelná a.s

Technische Anforderung[en]
Energieübertragungssystem für einen Stacker & Reclaimer

Länge [System]
23 m (Leitungswagen)

Produkt[e]
• Schleifleitungen, Programm 0811, 0812 SinglePowerLine
• Leitungswagen-System, Programm 0240
• Powertrans®
Relevant Products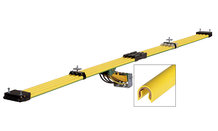 Single FlexLine 0811
Additional information
Einzelpolige flexible Schleifleitung für kurvenreiche Anwendungen und Ringanordnungen.
Wichtige Merkmale
Sicherheit durch Vollisolation und integriertem Berührungsschutz durch Isolation der Einzelpole
Einfache und exakte Montage mit mehrpoligen Schienenhalter und Bajonettverbindertechnik
Unbegrenzte Polzahl auch für komplexe Anwendungen
Einfache Verlegung in Radien durch einfach an die Konturen anpassbare Schienen
Flexible Einspeisemöglichkeit
Typische Applikationen
Elektrohängebahnen
Verpackungsmaschinen
Fliegende Bauten
Ringbahnen / Schleifringe
Drehbühnen
Kleinteilelager
Product data
Standard Einsatzdaten
Nennstrombereiche (100% ED) [A]: 10 | 32 | 100
Nennspannung [V]: 690
Schienenlänge [mm]: 4.000
Außenabmessungen (Pol) [mm]: 14,7 x 15,5
Einsatzbereich: Innen und geschützter Außenbereich
Bahnverlauf: gerade / einfache kundenseitige Anpassung an Bahnverlauf
Downloads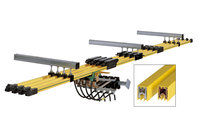 Single PowerLine 0812
Additional information
Einzelpolige Schleifleitung für den vorzugsweise geraden Bahnverlauf.
Wichtige Merkmale
Hohe Verfügbarkeit auch bei raueren Umgebungsbedingungen durch robusten Aufbau und unterschiedlicher Leitungswerkstoffe
Sicherheit durch Fingerschutz und hochwertige Isolation
Einfache und exakte Montage mit kombinierbaren mehrpoligen Schienenhaltern (3, 4 und 5 Pole)
Unbegrenzte Polzahl auch für komplexe Anwendungen
Kurvengängigkeit durch Bogensegmente
Typische Applikationen
Krananlagen im mittleren Leistungsbereich
People Mover / Personentransport-Systeme
Sonderanlagen
Product data
Standard Einsatzdaten
Nennstrombereiche (100% ED) [A]: 25 | 200 | 250 | 320 | 400
Nennspannung [V]: 690
Schienenlänge [mm]: 4.000
Außenabmessungen (Pol) [mm]: 18,0 x 26,0
Einsatzbereich: Innen und geschützter Außenbereich
Bahnverlauf: gerade / Kurvensegmente möglich
Downloads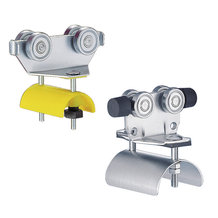 Programm 0240

Buy this product online
Additional information
Flachleitungswagen
Leitungswagen aus Stahl – Leitungsauflage aus Stahl oder Kunststoff
Rundleitungswagen
Leitungswagen aus Stahl mit Kugelgelenk

Leitungswagen aus Stahl mit Bügel

Leitungswagen aus Kunststoff mit Haken
Zubehör
Leitungshalter aus Kunststoff mit Zapfen für Leitungswagen mit Kugelgelenk

Leitungshalter aus Kunststoff mit Bügel für Leitungswagen mit Bügel

Leitungsschellen aus Kunststoff für Leitungswagen mit Haken

Gurtband für Leitungswagen mit Haken
Product data
Schienen-Abmessungen [mm]: 40x40x2,5
Max. Tragfähigkeit/Wagen 1) [kg]: 32
Max. Fahrgeschwindigkeit 1)[m/min]: 100
Max. Systemlänge [m]: 120
1) abhängig von Rollengröße/ Rollenmaterial
Downloads