General Industry
Energy and data transmission solutions are required throughout manufacturing facilities and in some institutional buildings, such as schools and museums. The needs can range from simple retractable cord reels to more sophisticated workstation systems.  Spring-driven cable and cord reels provide portable power to assembly areas, trade school shop areas, automotive repair shops, and other maintenance shops.  Ergonomic handling of large tools need a spring assist to manage the weight.  Cable reels or  conductor rails can power various service machines, such as window washing platforms and other utility machines. Mobile maintenance trucks and trailers often require  cable and hose management, as do service providers, such as landscaping companies, electric utilities, and so forth. These types of standard electrification devices are often purchased through electrical/industrial distributors and catalog houses.
Conductix-Wampfler builds high-quality cable and hose reels, lifting/balancing, and control devices to general industry. In France, Italy, Germany, and the United States, we manufacture an array of products made and serviced locally.

Spring-driven Cord and Cable Reels
A complete array of metric cord and  cable reels are made locally in France, Germany, and Italy, as well as American Wire Gauge (AWG) reels made in the United States. Common configurations are available for very quick delivery!
Reels handle from 6 m (about 20 ft) up to 30m (about 100 ft) and more
High-quality  slip ring assemblies to transfer power from the source to the spooled cable.

Spring Balancers – to manage the weight of heavy tools
Jay Radio Remote Controls –  offer a safe way of operating or monitoring machines from a distance. The comprehensive range of industrial and safety radio remote controls offers countless solutions to adapt to an extensive number of industrial applications.
Scissor Lift
Application
Scissor Lift

Country
Netherlands

City
Hoorn

Project installation date
2018

Representative office
Conductix-Wampfler B.V. [NL]

Customer
Holland Lift International B.V.

Technical requirement[s]
Power and grounding to a high scissor lift platform

System course
Linear

Product[s]
• Spring Cable Reel, Program 6100 EXEL
• Spring Cable Reel, Program M03K

Additional product information
• Reels fixed on base platform
• Spring reel addapted with blocking device
• Winding and unwinding spring driven, cables guided by hand during winding
• EXEL2 2S 2TP050 + SE / BR + K SPE
• Grounding Extension Reel 1G25-40M OE4

Cable[s]
• 4x2,5mm² [power]
• 1x25mm² [grounding]

Winding length
30 m
Relevant Products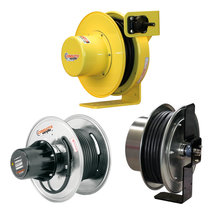 Spring Cable Reels

Buy this product online
Additional information
Conductix-Wampfler spring cable reels are used for the automatic reeling of cables on various types of moving equipment. These include hoisting and other material handling devices; e.g. portal cranes, grabs, magnets, lift and working platforms, machinery, mobile cranes, transfer cars or cleaning systems.
These machines are mainly track-based and operate in a straight line either horizontally or vertically. For the use on spring driven cable reels Conductix-Wampfler offers a comprehensive range of special reeling cables to transfer low voltage electric power and control signals to the moving machinery.
Downloads