General Industry
Energy and data transmission solutions are required throughout manufacturing facilities and in some institutional buildings, such as schools and museums. The needs can range from simple retractable cord reels to more sophisticated workstation systems.  Spring-driven cable and cord reels provide portable power to assembly areas, trade school shop areas, automotive repair shops, and other maintenance shops.  Ergonomic handling of large tools need a spring assist to manage the weight.  Cable reels or  conductor rails can power various service machines, such as window washing platforms and other utility machines. Mobile maintenance trucks and trailers often require  cable and hose management, as do service providers, such as landscaping companies, electric utilities, and so forth. These types of standard electrification devices are often purchased through electrical/industrial distributors and catalog houses.
Conductix-Wampfler builds high-quality cable and hose reels, lifting/balancing, and control devices to general industry. In France, Italy, Germany, and the United States, we manufacture an array of products made and serviced locally.

Spring-driven Cord and Cable Reels
A complete array of metric cord and  cable reels are made locally in France, Germany, and Italy, as well as American Wire Gauge (AWG) reels made in the United States. Common configurations are available for very quick delivery!
Reels handle from 6 m (about 20 ft) up to 30m (about 100 ft) and more
High-quality  slip ring assemblies to transfer power from the source to the spooled cable.

Spring Balancers – to manage the weight of heavy tools
Jay Radio Remote Controls –  offer a safe way of operating or monitoring machines from a distance. The comprehensive range of industrial and safety radio remote controls offers countless solutions to adapt to an extensive number of industrial applications.
Flow assembly stations in mechanical engineering
Application
Flow assembly stations in mechanical engineering
Country 
Switzerland
Representative office
Conductix-Wampfler AG [CH]
Technical requirement[s]
Energy, compressed air and coolant supply to flow assembly stations in mechanical engineering
Product[s]
Spring hose reel type TO3K for compressed air
Spring hose reel type TO4K with double hose for coolant
Extension lengths
15 m (compressed air), 7 m (coolant)
Pressure
6 bar (compressed air), 5 bar (coolant)
Additional product information
For the transfer of compressed air and coolant to the respective assembly stations
Product[s]
Cable reel with spring drive type LO2K
Additional product information
Open cable reel with backstop and swivel bracket
Extension length
12 m
Cable[s]
Rubber round cable 3 G 1.5 mm²
Current
max. 12 A

Voltage
230 V AC
Additional information
Cable reel for operating electric hand tools
Relevant Products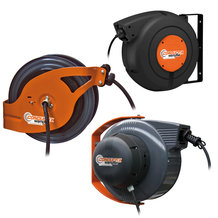 Cable Reels

Buy this product online
Additional information
Conductix-Wampfler Cable reels are mainly used for energy supply to electromechanically driven tools in workshops and industrial applications. The cables are not lying on the shop floor, what improves safety levels in companies and enhances the operational life of the cables. Conductix-Wampfler offers cable reels from 2 x 1 mm², with 7 meters pay-out length, through 8 x 1.5mm² and 30 meters pay-out length, up to reels that are suitable for grounding tank wagons, with 1x16mm² and 15 meters pay-out length.
Downloads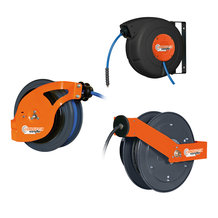 Hose Reels
Additional information
Conductix-Wampfler hose reels can be fitted with hoses for compressed air, water, gas, oxygen, hydraulics, petroleum, oil or grease and are used over a wide range of sites, especially where pneumatic tools are moved, or hoses are pulled out and stored. Our extensive range of hose reels offers a solution for almost every application and improves productivity and safety on the job keeping moving hoses away from the shop floor.
Downloads