General Industry
Energy and data transmission solutions are required throughout manufacturing facilities and in some institutional buildings, such as schools and museums. The needs can range from simple retractable cord reels to more sophisticated workstation systems.  Spring-driven cable and cord reels provide portable power to assembly areas, trade school shop areas, automotive repair shops, and other maintenance shops.  Ergonomic handling of large tools need a spring assist to manage the weight.  Cable reels or  conductor rails can power various service machines, such as window washing platforms and other utility machines. Mobile maintenance trucks and trailers often require  cable and hose management, as do service providers, such as landscaping companies, electric utilities, and so forth. These types of standard electrification devices are often purchased through electrical/industrial distributors and catalog houses.
Conductix-Wampfler builds high-quality cable and hose reels, lifting/balancing, and control devices to general industry. In France, Italy, Germany, and the United States, we manufacture an array of products made and serviced locally.

Spring-driven Cord and Cable Reels
A complete array of metric cord and  cable reels are made locally in France, Germany, and Italy, as well as American Wire Gauge (AWG) reels made in the United States. Common configurations are available for very quick delivery!
Reels handle from 6 m (about 20 ft) up to 30m (about 100 ft) and more
High-quality  slip ring assemblies to transfer power from the source to the spooled cable.

Spring Balancers – to manage the weight of heavy tools
Jay Radio Remote Controls –  offer a safe way of operating or monitoring machines from a distance. The comprehensive range of industrial and safety radio remote controls offers countless solutions to adapt to an extensive number of industrial applications.
Overhead monorail system in a paint shop
Installation description
Overhead Monorail System in a paint shop

Country
Czech Republic

City
Oslavany

Representative office
Conductix-Wampfler s.r.o. [CZ]
Operator
Strojírna Oslavany, s.r.o

Customer
Ekol, s.r.o.

Technical requirement [s]
Carriage of material in a paint shop

System course
Linear

Product [s]
W1400


Relevant Products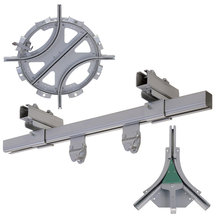 Manual - C-Rail Program
Additional information
For transport within a facility, Conductix-Wampfler's modular handling systems can provide customized transport solutions that ensure an optimum material flow. Various additional components, such as switching systems and curves, allow for the creation of complex tracks. The modular nature of the system and its simple assembly make it possible to plan and install a manual suspension track for many different applications.
Product data
Manual suspension tracks offer the following benefits:
Low investment costs
Reduced internal transport time
Reduced handling times
Increased productivity
Easier working conditions for employees
Targeted material flow
Product-based design
Easy expansion of the system at any time
Individual construction with custom set-ups
Flexible adjustment for changes in production requirements
Simple planning with a clearly laid out modular system
Manual suspension track components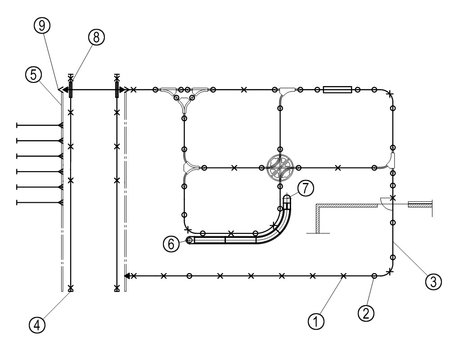 Rail carriers
Rail connectors
Track rails [fixed length of C-rails: 6m], include cut-off in calculations
End stop with a safety screw
Safety guides for keeping the transported object in place
Drag chain conveyor - drive station
Drag chain conveyor - tensioner
Interlock mounted on the crane bridge
Arrester mounted on the spurs
Downloads