Ports
Throughout recorded history, cargo ports have played a vital role in the development of economies and countries. The importing and exporting of many types of goods are handled by countless port facilities around the globe, from small river ports to specialized sea ports that handle bulk materials, break bulk, special cargo, Ro-Ro (roll-on/roll-off) or containers. Depending on the type of goods handled by a given port, dedicated material handling machines such as cranes, loaders, and  unloaders efficiently manage  logistics within the port's operations. Often operating 24 / 7 / 365, this equipment needs to be extremely reliable and able to operate in very harsh environments. Increasing global trade has driven ever increasing demands for faster, more reliable, and better performing port equipment components. Energy and data transmission systems play a crucial role in providing safe, reliable, and efficient port operations. Due to increasing requirements for "green" ports and environmental friendly handling facilities, operators will continue to convert combustion engines to electric drives. In addition, more and more ports are providing shore power for docked vessels to further reduce emissions.
E-RTGTM Container Kran
Anlagenbeschreibung
E-RTGTM Container Kran [Testinstallation]

Land
USA

Ort
Savannah/Georgia Port

Vertretung
Conductix-Wampfler [USA]

Betreiber
Georgia Ports Authority Garden City Terminal

Technische Anforderung
Elektrifizierung von 4 Container-Blöcken mit RTG
Nutzung [E-RTGTM Drive-In L]

Produkt[e]
Schleifleitung, Programm 0813 SinglePowerLine
Drive-In L Units, Programm 0852

Zusätzliche Produktinformation[en]
Anordnung der Schleifleitung: 4 Parallel
Energie-Rückspeisung (Powerfeedback) der Bremsenergie über entsprechend dimensionierte Schleifleitungen
"Back to Back" Anordnung der Schleifleitungslinien
Anzahl Pole
3 + PE

Stromabnehmer
Doppelstromabnehmer

Einspeisung
Mitteneinspeisung

Strom
1000 A

Spannung
480 V

Länge [System]
660 m

Systemverlauf
Linear

Verfahrweg [Verbraucher]
Max. 165 m pro Block

Verfahrgeschwindigkeit [Verbraucher]
135 m/min

Umgebungsbedingung[en]
Container-Hafen [Seeluft]
Relevant Products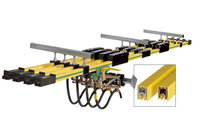 Single PowerLine 0813
Additional information
Einzelpolige Schleifleitung für den vorzugsweise geraden Bahnverlauf.
Wichtige Merkmale
Hohe Verfügbarkeit auch im robusten Einsatzfeld durch robusten Aufbau und unterschiedlicher Leitungswerkstoffe
Sicherheit für Mensch und Maschine durch Isolation der Einzelpole
Einfache und exakte Montage mit kombinierbaren mehrpoligen Schienenhaltern (3, 4 und 5 Pole)
Unbegrenzte Polzahl auch für komplexe Anwendungen
Kurvengängigkeit durch werkseitig lieferbare Bogensegmente
Typische Applikationen
Krananlagen im oberen Leistungsbereich
Seilgezogene STS Kran-Katzsysteme
People Mover / Personentransport-Systeme
Sonderanlagen
Product data
Standard Einsatzdaten
Nennstrombereiche (100% ED) [A]: 500 | 800 | 1.000 | 1.250
Nennspannung [V]: 690
Schienenlänge [mm]: 5.000
Außenabmessungen (Pol) [mm]: 32,0 x 42,0
Einsatzbereich: Innen und geschützter Außenbereich
Bahnverlauf: vorzugsweise gerader Bahnverlauf / Kurvensegmente werkseitig möglich
Downloads