Ports
Throughout recorded history, cargo ports have played a vital role in the development of economies and countries. The importing and exporting of many types of goods are handled by countless port facilities around the globe, from small river ports to specialized sea ports that handle bulk materials, break bulk, special cargo, Ro-Ro (roll-on/roll-off) or containers. Depending on the type of goods handled by a given port, dedicated material handling machines such as cranes, loaders, and  unloaders efficiently manage  logistics within the port's operations. Often operating 24 / 7 / 365, this equipment needs to be extremely reliable and able to operate in very harsh environments. Increasing global trade has driven ever increasing demands for faster, more reliable, and better performing port equipment components. Energy and data transmission systems play a crucial role in providing safe, reliable, and efficient port operations. Due to increasing requirements for "green" ports and environmental friendly handling facilities, operators will continue to convert combustion engines to electric drives. In addition, more and more ports are providing shore power for docked vessels to further reduce emissions.
RMG Container Kran - Motorleitungstrommel "Sprinter"
Anlagenbeschreibung
RMG Container Kran

Land
Russland

Ort
Podolsk, Moscow Region

Vertretung
Conductix-Wampfler [RUS]

Betreiber
Ruskon [Mosagronauchpribo]

Technische Anforderung
• Hauptstromzuführung des Container Kranes [Motorleitungstrommel]
• Elektrifizierung der Krankatze [Leitungswagen-System]

Systemverlauf
Linear

Verfahrweg [Verbraucher]
• 150 m [Motorleitungstrommel]
• 53 m [Leitungswagen-System]

Verfahrgeschwindigkeit [Verbraucher]
• 60 m/min [Motorleitungstrommel]
• 40 m/min [Leitungswagen-System]

Max. Beschleunigung [Verbraucher]
• 0,20 m/s² [Motorleitungstrommel]
• 0,15 m/s² [Leitungswagen-System]

Produkt[e]
• Motorleitungstrommel "Sprinter"
• Leitungswagen-System [Großleitungswagen]

Aufstellhöhe
4,5 m [Motorleitungstrommel]

Antrieb
• 3-Phasen Motor mit Kupplung
• Steuerung realisiert mit Siemens Bauteilen

Wickellänge
75 m [Motorleitungstrommel]

Einspeisung
Mitteneinspeisung [Motorleitungstrommel]
Relevant Products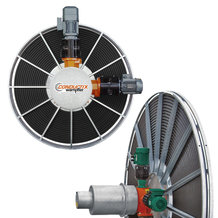 Motortrommeln - für hohe Last [HL]
Additional information
Modulare Baugruppen - einfacher Erweiterung der Motortrommeln mit zusätzlichen Antriebseinheiten nach der Installation
Normmotor mit Magnetkupplung (MAG Drive) oder frequenzgeregelte Antriebe (SMART Drive)
5 Jahre oder 15.000 Betriebsstunden ohne Wartung - schmiergefettete Getriebe
Optimaler Korrosionsschutz auch unter aggressiven Umgebungsbedingungen - Flansch und Trommelkörper aus feuerverzinktem Stahlblech oder Edelstahl
Hauptanwendungen:
Containerkrane (STS, RMG, RTG)
Schiffsentlader
Stacker / Reclaimer
Schiffsbaukrane
Product data
Standard Einsatzdaten
Fahrgeschwindigkeit:
- Wechselstrommotor mit Magentkupplung (MAG Drive): bis zu 100 m/min
- Frequenzgeregelter Antrieb (SMART Drive): bis zu 180 m/min
Wickellänge: max. 700 m
Außendurchmesser Trommelkörper:
- spiralig wickelnd: 1.100 mm - 8.000 mm
- 3-2-3 wickelnd: 1.100 mm - 8.000 mm
Getrieb:
- Typ BNA: 1.100 Nm - 19.000 Nm
- Typ X07: 1.100 Nm - 11.000 Nm
Schleifringkörper:
- Energieübertragung Niederspannung: max. 690 V - 1.600 A
- Energieübertragung Hochspannung: max. 24.000 V - 500 A
- Signale: max. 500 V - 25 A
- Daten: LWL, mA
Temperaturbereich: -40 °C - +60 °C
Downloads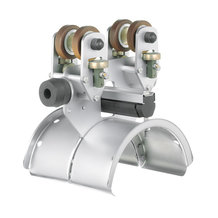 L-Line Programm 0360
Additional information
Ein- oder mehrstöckiger Leitungswagen mit seitenbeladbaren Leitungsauflagen für Rundleitungen. Geeignet für hohe mechanische und dynamische Belastungen einschließlich Reversierbetrieb und überlagerten Querbewegungen. Auch für kurze Arbeitszyklen und hohe Geschwindigkeiten.
Hauptanwendungen
Gieß- Schrott- und Automatikkrane
STS-Containerkrane
Leistungsstarke Stahlwerks- und Greiferkrane
Schnell laufende fördertechnische Anlagen
Product data
Fahrgeschwindigkeit max. 1) [m/min]: 160
Tragfähigkeit/Wagen max. 1) [kg]: 500
Tragrollendurchmesser [mm]: 50/63/80/100/112/125
Temperaturbereich [°C]: -30 ... +80
Einsatzmöglichkeiten: Innen- und Außenanwendungen / Seeklima
I-Träger: Parallel- / Schrägflansch
1) abhängig von Rollengröße/ Rollenmaterial
Downloads