Compressed Air And Electric Supply System
Media Supply at a leading manufacturer for Compaction Equipment
Application
Media Supply at a leading manufacturer for Compaction Equipment

Country
Germany

City
Hennef

Representative office
Conductix-Wampfler GmbH [D]

Operator
Amman Verdichtungsmaschinen GmbH

Technical requirement[s]
Projection, delivery and assembly of the compressed air and electric supply incl. steelwork

Product[s]
• W5-traxX [compressed air and electric supply]
• Tool transporter
• Energy supply with chain and channel
• Steelwork

Length [System]
15 m and 6 m

System course
Linear

Number of [Load]
5 tool transporters

Environmental condition[s]
Indoor, factory buildung

Additional information
Plant layout/projection and construction realized by Conductix-Wampfler
Relevant Products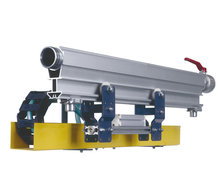 BestaPower W5 - traxX
Additional information
The automation solution with integrated compressed air line, sideways installed energy-guiding chain and optional position gauging system.
Special features
The optimal compressed air supply, even for users with high air consumption, using integrated 2" compressed air pipe
High load capacity at light weight, due to special aluminum profile
Maximum flexibility, due to easy installable compressed air outlets
Flexible and adaptable, thanks to terminal profiling on all sides
Safe, low-friction guiding, thanks to I-profile trolleys with polyamide flange rollers
Automation with an optional, position gauging
Main applications
Assembly lines in the automotive industry
Product data
Standard application data
Suspension distance max. [m]: 4
Point load max. [kg]: 100
Section load max. [kg/m]: 250
Travel speed max. [m/min]: 80
System length Workstation length max. [m]: 20
Capacity up to 2 x ½" compressed air hoses, 1 electrical cable 3 x 2,5 mm2 or 5 x 2,5 mm2 1 high-frequency line
Working pressure max. [bar]: 12
Interfaces Feed through terminal boxes | 2" ball valve at feeding point
Compressed air outlet using R ½" inside thread (coupling optional)
Equipment carrier: Steel and/ or Aluminum
Working conditions Indoors [°C]: +5 up to +60
Options: Position gauging system
Downloads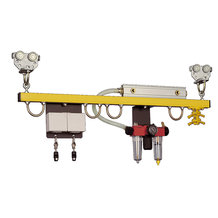 Equipment Carrier
Additional information
Equipment carriers are complete pre-assembled units that allow the use of multiple different tools. They are comprised of a ground cart / trolley and additional components based on actual usage requirements. Equipment carriers are available in different lengths and can be fitted with outlets, service units, spring tensioners, etc. based on customer needs.
Compressed air or electric tools can be suspended and positioned on spring tensioners or balancers for quick access. Equipment carriers may only be used along a straight line and cannot be used in curves.
Product data
Standard lengths
(also available in custom lengths at an additional price)

Applications:
For jib booms
For single rail systems
For device cranes
For workbench equipment
Accessories
Outlets
Service units
Spring tensioners
Balancers
Suspension clips
Support plates
etc.
Downloads