Mobile Crane
Spring reels for a Mobile Crawler Crane [Telescopic Crane 683 HD]
Application
Spring reels for a Mobile Crawler Crane [Telescopic Crane 683 HD]

Country
Worldwide

Representative office
Conductix-Wampfler AG [D]

Operator / Customer
SENNEBOGEN

Technical requirement[s]
Feed-in of hydraulic powered adjustable fly jib on telescoping boom

Boom lenght
42 m / 16 m

Load capacity
Max. 80 t

Product[s]
1.) Double hose reel with spring drive
Winding lenght / Hose lenght: 35 m
Maximum pressure: 260 bar
Hose width: 12 mm
2.) Spring Hose Reel - Stock&Go
Winding lenght / Hose lenght: 35 m
Cable type: 7 x 1.5 mm2
Relevant Products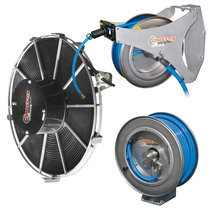 Spring Hose Reels

Buy this product online
Additional information
Conductix-Wampfler spring hose reels are used for the automatic reeling of hoses for the transfer of fluidic and aerially elements to various types of moving equipment. These include movable production equipment, mobile cranes, irrigation or cleaning systems.
These machines are mainly track-based and operate in a straight line either horizontally or vertically. Single channel/multi channel swivel can be used for air, water and hydraulic oil transmission. The maximum pressure for swivels is 300bar.
According to the customer needs there are also customized solutions available, e.g. double hose reels for hydraulic luffing jibs.
Downloads