Automotive
Capital intensive automobile manufacturing plants produce a large volume of high quality vehicles. But they also must be flexible to handle a wide variety of rapidly changing models. Only the most versatile, reliable, and  ergonomic equipment is used in modern automotive plants – and that is exactly where you will find Conductix-Wampfler products.
In the early stages of manufacture, electric  overhead traveling cranes ( EOT) handle steel coils, foundry parts, and raw materials.  Transfer cars take tooling and materials to and from the presses in the press shop. Components are transferred by  Electrified Monorail Systems ( EMS) to the body shop, where "bodies in white" (BIW) take shape.  EMS or powered  skid conveyors move raw car bodies to the paint shop. Large scale  Automated Storage and Retrieval Systems ( AS/RS) provide a storage buffer for just-in-time sequencing of assemblies.  Automated guided vehicles ( AGV) and rail guided vehicles (RGV) are used at the drive train pre-assembly lines and at the "marriage line" (chassis decking). In final assembly,  EMS and conveyors operate under the ceiling, while  skillet lines work at floor level. Assembly workers need workstations, hoists, tool balancers, and tool transports for required tools, as well as electric and pneumatic power to operate them.
We offer a wide range of energy and data transmission solutions to work alongside the full spectrum of automotive manufacturing processes. Whether it is to provide power and data for cranes, electrified monorail systems, conveyors, transfer cars, skillet systems, or assembly tools, Conductix-Wampfler has the right solutions for the need.


Conductor Rails–power  EOT crane runways,  electrified monorail systems ( EMS), transfer cars, flexible  conveyor systems and large-scale AS/RS.
Cable Festoon Systems – manage  cables for  EOT crane bridge travel,  AS/RS systems and manage assembly line  electric and compressed air lines for power tools.
Inductive Power Transfer (IPT®) – provides contactless power for transfer cars,  skillet lines with lift tables,  Automated Guided Vehicles ( AGV) or Rail Guided Vehicles (RGV).
Electric/Compressed Air Systems, Tool Transports, and  Balancers – to increase productivity and safety on assembly lines, our systems provide easy access to assembly line tools, constant electric and compressed air for power and ergonomic assists.
Spring-Driven Cable Reels – provide external 12V energy supply for the vehicle testing and for different types of transfer cars.
High-speed Cellular Buffers – to cushion impacts on lift stations and turntables.
Jay Radio Remote Controls –  offer a safe way of operating or monitoring machines from a distance. The comprehensive range of industrial and safety radio remote controls offers countless solutions to adapt to an extensive number of automotive applications.


Single C-Rail Track with tool transporter for the final assembly of utility vehicles
Application
Single C-Rail Track with tool transporter for the final assembly of utility vehicles

Operator
Multicar, Waltershausen, [D]

Customer
Multicar, Waltershausen, [D]

Product
Single C-Rail Track with hose, cable drag chain and tool transporter


Length of the C-Rail Track
25 m

Tool transporter equipment
Hose reel, tool-quiver, deposit, maintenance unit

Specific features
CI-Rail for big hang-up distances


Relevant Products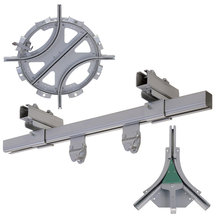 Manual - C-Rail Program
Additional information
For transport within a facility, Conductix-Wampfler's modular handling systems can provide customized transport solutions that ensure an optimum material flow. Various additional components, such as switching systems and curves, allow for the creation of complex tracks. The modular nature of the system and its simple assembly make it possible to plan and install a manual suspension track for many different applications.
Product data
Manual suspension tracks offer the following benefits:
Low investment costs
Reduced internal transport time
Reduced handling times
Increased productivity
Easier working conditions for employees
Targeted material flow
Product-based design
Easy expansion of the system at any time
Individual construction with custom set-ups
Flexible adjustment for changes in production requirements
Simple planning with a clearly laid out modular system
Manual suspension track components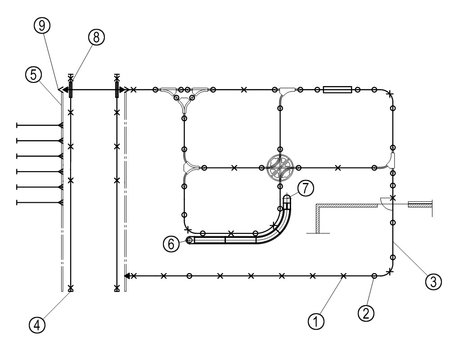 Rail carriers
Rail connectors
Track rails [fixed length of C-rails: 6m], include cut-off in calculations
End stop with a safety screw
Safety guides for keeping the transported object in place
Drag chain conveyor - drive station
Drag chain conveyor - tensioner
Interlock mounted on the crane bridge
Arrester mounted on the spurs
Downloads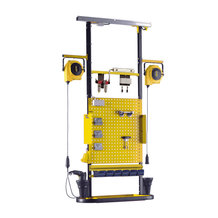 Tool Transporter
Additional information
Tool transporters are complete pre-assembled units that allow the use of multiple different tools, among other things. They can also be fitted with tool holders, perforated sheets, storage tubs for keeping small parts in storage containers, etc..
The load-bearing element is a ground cart / trolley. Vertical, collapsible aluminum tubes enable the transporter's height to be adjusted.
The standard equipment includes a rubber profile along the edges of the steel storage tub for collision protection. Based on customer needs, the standard transporter can be fitted with additional components such as perforated plates, a tool holder, etc.
Product data
The tool transporter is designed for use by craftsmen or in industrial settings, even with low clearances. We supply workplace systems for every industrial sector as well as repair and assembly lines for the automotive industry and its suppliers.
Tool transporter models
Standard version + accessories
Applications:
For jib booms
For single rail systems
For single girder device cranes
Accessories
Outlets
Service units
Spring tensioners
Balancers
Perforated sheets for hanging hooks for tools, tool holders, storage shelf, etc.
Downloads