General Industry
Energy and data transmission solutions are required throughout manufacturing facilities and in some institutional buildings, such as schools and museums. The needs can range from simple retractable cord reels to more sophisticated workstation systems.  Spring-driven cable and cord reels provide portable power to assembly areas, trade school shop areas, automotive repair shops, and other maintenance shops.  Ergonomic handling of large tools need a spring assist to manage the weight.  Cable reels or  conductor rails can power various service machines, such as window washing platforms and other utility machines. Mobile maintenance trucks and trailers often require  cable and hose management, as do service providers, such as landscaping companies, electric utilities, and so forth. These types of standard electrification devices are often purchased through electrical/industrial distributors and catalog houses.
Conductix-Wampfler builds high-quality cable and hose reels, lifting/balancing, and control devices to general industry. In France, Italy, Germany, and the United States, we manufacture an array of products made and serviced locally.

Spring-driven Cord and Cable Reels
A complete array of metric cord and  cable reels are made locally in France, Germany, and Italy, as well as American Wire Gauge (AWG) reels made in the United States. Common configurations are available for very quick delivery!
Reels handle from 6 m (about 20 ft) up to 30m (about 100 ft) and more
High-quality  slip ring assemblies to transfer power from the source to the spooled cable.

Spring Balancers – to manage the weight of heavy tools
Jay Radio Remote Controls –  offer a safe way of operating or monitoring machines from a distance. The comprehensive range of industrial and safety radio remote controls offers countless solutions to adapt to an extensive number of industrial applications.
Flow assembly stations in mechanical engineering
Application
Flow assembly stations in mechanical engineering
Country
Switzerland
Representative office
Conductix-Wampfler AG [CH]
Technical requirement[s]
Continuous energy supply to flow assembly stations in mechanical engineering
System course
Round course
Track length [System]
46 m
Number of assembly cycles
10 (7 with constant electrical energy supply)
Energy / media supplied
Electrical energy
Product[s]
Conductor SingleFlexLine Program 0811
Additional product information
100 A copper, single pole insulated
Current
63 A
Voltage
3 x 400 V AC
Number of poles
10 (2 circuits with 5 poles each)
Current collector
Double collector assembly
Environmental condition[s]
Indoor facility, clean, dry
Additional information
For the continuous power supply of the machine produced in each case. Each circuit is fed several times
Relevant Products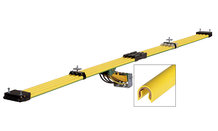 Single FlexLine 0811
Additional information
Single pole conductor rail for curved tracks and circular or oval applications.
Special features
High safety level due to integrated finger-safe design
Easy and exact mounting with multiple hanger clamps and bayonet fastening technology
Unlimited number of pole, designed for complex systems
Easy installation of courved segments
Various power feed options
Main applications
EMS (Electrified monorail systems)
Wrapping and packaging machines
Amusement rides
Ring-shaped applications or slip rings
Stage technology
Sorters
Product data
Standard application data
Nominal Current (at 100% duty cycle) [A]: 10 | 32 | 100
Nom. Voltage [V]: 690
Rail Length [mm]: 4.000 [13.12 ft]
External Dimensions (Pole) [mm]: 14,7 x 15,5 [0.58" x 0.61"]
Operating Conditions: for indoor and weather-protected outdoor applications
Track Configuration: straight / easy on-site adaptation to track layout
Downloads