Stage Technology
Today, more than ever, successful theatrical performances feature dynamic interplay between stage components. Parts that are raised, lowered, or directed need the right energy and  data transmission technologies. Moveable stage lighting battens and lighted acoustic panels require power and control signals to the moving parts.  Cables for moving audio systems must be managed. Scenery wagons require electrical supply to junction boxes and interlocks. Control signals and data bus signals are needed for stage lifts. Mobile media towers in the wings require energy supply and control for spotlights, transmission of audio signals, and other necessary energy and data transfer. Electrical power, audio, video, and data bus signals must be supplied to revolving stages or rotating props. Everything must run flawlessly or the show can't go on!
When you need the optimum solution for your moving stage and theater applications, call Conductix-Wampfler. With more than 50 years of experience and installations all over the world, we provide the stage technology that makes it all run, both over stage and for under-stage machinery. Conductix-Wampfler goes beyond just the supply of products. We offer competent advice on the selection of the optimum  cables and accessories and project planning to include comprehensive logistical concepts and on-site commissioning.

Spring-driven and  Motor-driven Cable Reels – manage silently and automatically lighting power cables, DMX cables, and Ethernet  cables as light battens move.

Cable Festoon System – can be used alone or with  spring-driven cable reels to create highly flexible moving systems.

Energy Guiding Chains – manage multiple power and data  cables in a single chain to power and control stage lifts.  Cable Chains are used in a zig-zag pattern as alternative to cable reels, or an alternative to  festoons for linear motion.

Inductive Power Transfer (IPT®) – powers stage wagons contactless in a way that is completely hidden from the audience.  IPT® can be used in curved applications to transfer power to revolving stages also!

Conductor Rails – supply energy and data to mobile lighting, speaker and media towers in the wings. Multiple towers can run from the same  conductor rail system. Curved  conductor rails can be used to transfer power and data to rotating stages.

Slip Ring Assemblies – transmit continually power and data signals such as DMX, Ethernet, Profibus, CAN bus into revolving stages or stage props.


Staatsoper Unter den Linden | Berlin
Application
Lighting trusses
Country
Germany
City
Berlin
Representation
Conductix-Wampfler GmbH [D]
Operator
Staatsoper Unter den Linden | Berlin
Customer
Panthea
Technical requirement[s]
Energy supply of the lighting trusses 23 m stroke, 17 m winding length
Traversing speed [Consumers]
30 m/min
Max. Acceleration [Load]
0,3 m/s²
Products
2x FLT EXEL3.X 2SR 3TP050 with mounting bracket and roller mouthpiece, each with 29 m reelable cable 4G2.5 mm² Speed limiter by means of magnetic brake 
2x FLT EXEL3.X 1S ETH / G / 35-1 ETHERNET CAT6 up to 1Gbps Data transmission with mounting bracket and roller mouthpiece with 26 m each RXP-D CATline 6A DR-4x2xAWG26 2 x 26 m Overspeed governor by means of magnetic brake
Relevant Products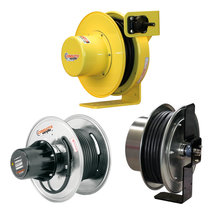 Spring Cable Reels

Buy this product online
Additional information
Conductix-Wampfler spring cable reels are used for the automatic reeling of cables on various types of moving equipment. These include hoisting and other material handling devices; e.g. portal cranes, grabs, magnets, lift and working platforms, machinery, mobile cranes, transfer cars or cleaning systems.
These machines are mainly track-based and operate in a straight line either horizontally or vertically. For the use on spring driven cable reels Conductix-Wampfler offers a comprehensive range of special reeling cables to transfer low voltage electric power and control signals to the moving machinery.
Downloads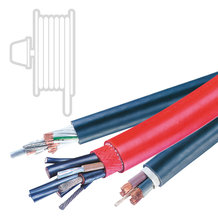 Cables for Reeling Systems

Buy this product online
Additional information
Special features of cables for Cable Reels
Reduced diameter and weight as a result of ideal insulation and sheathing materials
Better resistance to corkscrew due to reverse twist stranding
Stable construction and geometry based on extruded fillers
Outer sheath is highly resistant to wear even in aggressive environments
Extremely high resilience thanks to a very short lay stranding
High axial rigidity due to interlinked inner and outer sheaths
All high voltage cables are produced with left-hand lay
Downloads