Conductix-Wampfler Achieves Several Firsts with Port of Montreal's E-RTG Conversion Project
The first E-RTG system to include Conductix-Wampfler's new patented ProfiDAT® data transfer system
At the Port of Montreal, Conductix-Wampfler has just completed the first E-RTG (electrified rubber-tyred gantry) container crane conversion in Canada.  This conversion is believed to be the first performed on Liebherr RTG cranes. In addition to the usual benefits of RTG electrification – reduced fossil fuel consumption and reduced air pollution – Montreal Gateway Terminals (MGT), terminal operator at the Port, has seen a significant increase in productivity.  MGT further stated that they selected the Drive-In and rail system due to its lightness and compact size which makes it suitable for every type of RTG.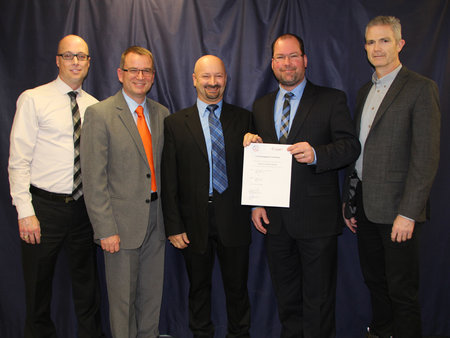 Daniel Boyer, Maintenance and Engineering manager with MGT, further stated that, "the investment in the electrification of our RTGs is a demonstration of our commitment to our mission. We want to supply our qualified and experienced personnel with highly sophisticated equipment, which will allow them to provide reliable and consistent services. MGT is concerned about the environment as well, contributing to our society with the reduction of greenhouse gases through the reduction of diesel fuel. Also, MGT has experienced a significant increase in the speed of the RGTs, which is having a positive impact on productivity."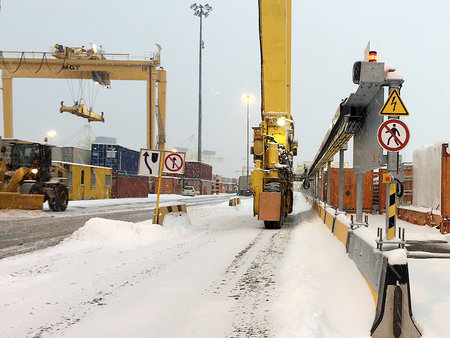 The 440 meter long electric rail runway features the field-proven "Drive-in L" conductor rail system with two drive-in zones.  This version of the Drive-in L includes unique features to adapt to the harsh Canadian winter climate. The special cold-weather components include an isolated and heated control panel with Conductix-Wampfler PLC and switching devices, snow covers, and heated conductor rail.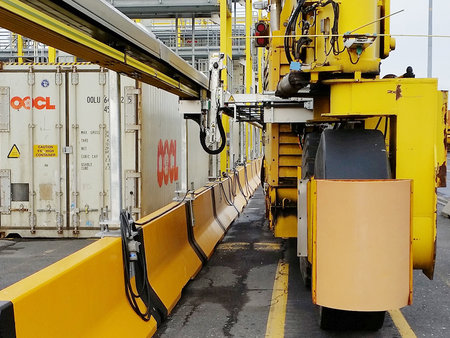 This is also the first E-RTG system to include Conductix-Wampfler's new patented ProfiDAT® data transfer system.  The uniquely designed ProfiDAT® earth conductor rail incorporates Conductix-Wampfler's slotted waveguide technology.  Installed in parallel with the power conductor rails, the multi-purpose data profile ensures the accurate transmission of high data volumes in real-time quality.  Mixed data can include video, audio, and real-time control data, which in this case is needed for the E-RTG auto-steering system.  Data can be reliably transferred at rates up to 100 Mbit/s with average latency of only 3ms. ProfiDAT® components use a standard Ethernet Interface to connect common industrial protocols (e.g. ProfiNET Safe). The ProfiDAT® collector incorporates the earth collector shoe assembly as well.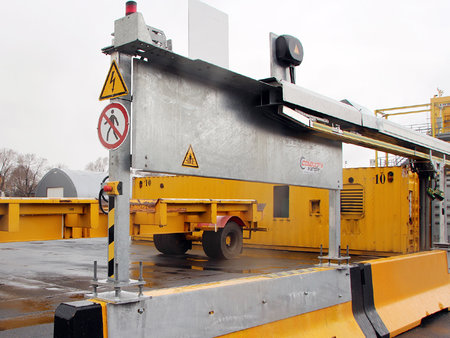 Conductix-Wampfler is the largest global producer of systems and equipment to electrify RTGs. Since 2006, the company has supplied over 340 cable reels and 2500 conductor rail trolleys worldwide for both new cranes and retrofits.  In addition to Canada in the Americas, Conductix-Wampfler E-RTG systems operate in several terminals throughout Brazil, Ecuador, Panama, Mexico, Chile, USA, Colombia, and Peru. The company was also recently awarded a new project in the USA and is engaged in negotiations for several more.