Feature
LJU becomes Conductix-Wampfler Automation GmbH
Completion of the integration of the pioneer in automation technology in group of companies
January 2022. Conductix-Wampfler has gradually integrated LJU Automatisierungstechnik GmbH into the corporate group since its acquisition in 2018. The final step of this successful integration is the new name of the pioneer in automation technology: Conductix-Wampfler Automation GmbH. "To enable further positive development and future growth, the approximately 100 employees of Conductix-Wampfler Automation GmbH have also moved to new premises at Handelshof 16A in Potsdam," says CTO Michael Eckle.
Responsibility for mobile controls and inductive solutions
As the Group's Center of Excellence in Potsdam, Conductix-Wampfler Automation GmbH is responsible for mobile controls and inductive energy and data transmission systems. Its tasks include research and development, engineering and design, as well as production, customization of industry-specific application solutions and service. "The LJU brand name established in the market will be retained for the mobile control product range," Eckle emphasizes. The control systems of Conductix-Wampfler Automation GmbH are used, among other things, in electric monorail systems; inductive energy transmission is becoming the preferred choice for opportunity charging of the energy storage units of automated guided vehicles or mobile robots. "Complete solutions with mechatronic approaches are exceedingly demanded by our customers. We will now be able to meet this demand even more precisely thanks to the concentration of competencies and the development of intelligent solutions," Eckle concludes.
Conductix-Wampfler Automation GmbH
Handelshof 16 A | 14478 Potsdam | Germany
new telephone number: +49 (0)331 887344-0
new e-mail address: info.potsdam@conductix.com
Delivery address:
Verkehrshof 9 | 14478 Potsdam | Germany
Relevant Products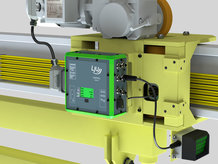 LJU Mobile Controls
Additional information
Though automation technology has been standard in production processes of the automotive industry for years, it has undergone significant technological advances in recent decades.

For over 30 years, we have driven forward this technology and its advancements – more than 150,000 reliable LJU devices in more than 1,000 systems speak for themselves. We are, and will continue to be, at the forefront of developments in automation technology, with customer-specific requirements driving our developments forward and contributing significantly to our success.
More information about our mobile controllers can be found here.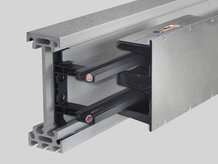 Inductive Power Transfer
Additional information
Inductive Power Transfer (IPT) opens many possibilities to designers requiring mobile electrification systems for their solutions. IPT was the first large scale contactless power transfer system which has revolutionised the way all kinds of moving machines may be supplied with electrical power. Based on the known principle of electromagnetic induction and developing it further to meet modern industrial needs, Conductix-Wampfler sets the bechmark in the field of electrification. 
Downloads
About us



Conductix-Wampfler is the world's leading supplier of mobile energy supply and data transmission systems. With own companies and several partners Conductix-Wampfler is present in nearly all relevant countries.
Conductix-Wampfler's core competence lies in the development, production, consulting and installation of solutions that provide tailor-made answers for all questions to do with energy supply and data transmission for moving consumers.

The customers include crane-construction companies, manufacturers of "people mover" systems, suppliers of warehousing and conveyor technology, the automotive industry, machinery manufacturers and many more...

In addition to its undisputed capabilities in these sectors, the company is remarkable for its expertise in applications, since today, all the typical technologies for the transmission of energy and data are combined under one roof. Festoon systems, conductor rails, energy guiding chains, spring cable reels, motorized cable reels, slip ring assemblies and contactless power transmission systems. For the customers, this means consulting without bias towards a particular product, and the means to achieve the optimum technical implementation for the specific application.

Innovative and tailor-made solutions are not just confined to the products. Instead, Conductix-Wampfler stands for completely consistent concepts that cover everything from the first consultation through to the acceptance of the customized pre-assembly, test procedures, or the on-site installation.  Conductix-Wampfler strengthens its leading position as an expert partner for development , delivery and service, through the performance of these out-of-house services for the customer.