Operator Portable Emergency Stop for Radio Remote Controls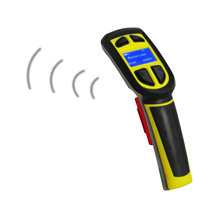 Validation Handle for Radio Remote Controls
Additional information
The Validation Handle for Radio Remote Controls designed to provide an individual wireless control and protection system to the authorized personnel intervening for maintenance, adjustment or control of dangerous equipment.
A 3-steps trigger allows operation while half-pressed. When released (fall, fear) or fully pressed (electric shock) processes stop at once.
In addition, 4 function buttons allow sending some commands to the machines.
Product data
Housing Material:
Two material plastic
Protection index:
IP 54
Weight (with battery):
340g
Operating temperature range:
-20°C to +50°C
Storage temperature range:
-20°C to +45°C
Charging temperature range:
0°C to +35°C
Downloads
Breast Worn Radio Remote Control
Additional information
The Breast Worn Radio Remote Control is formed by a unit comprising 4 function buttons, a "Start" button and an emergency stop palm switch. It features a high level of adaptability allowing each position to receive 5 different types of function buttons. The buttons allow for controlling equipment or process lines.
The emergency stop of a compact radio remote control is always within reach.
Both hands remain free to work.
Product data
Power supply:
Lithium ion battery
Autonomy (for buttons typical average use, at 20°C):
50 hours / 50% operating time
Frequency:
64 frequencies, programmable in 433-434 Mhz
Transmit Power:
<10 mW (without license), built-in antenna
Modulation:
FM
Average range:
150m in industrial space / 350m in open space
Downloads